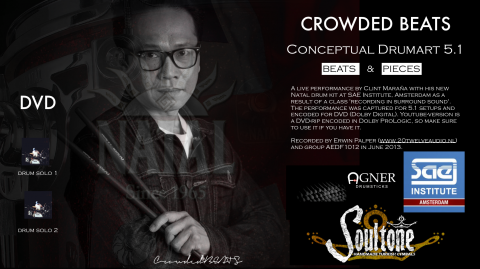 link: http://youtu.be/DMnmiqRureI Preview CROWDED BEATS DVD Conceptual Drumart 5.1 BEATS & PIECES
"natural balance of the drum kit "
A live performance by Clint Maraña with his new
Natal drum kit at SAE Institute, Amsterdam as a
result of a class 'recording in surround sound'.
The performance was captured for 5.1 setups and
encoded for DVD (Dolby Digital). This Youtubeversion
is a DVD-rip encoded in Dolby ProLogic, so
make sure to use it if you have it.
Recorded by Erwin Palper (www.20twelveaudio.nl)
and group AEDF1012 in June 2013.