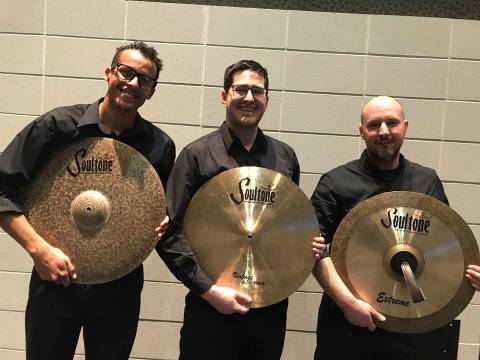 Caleb DeGroote, President and Principal Percussionist of the Rockville Brass Band (RBB), took first place in the "Adult Solo Percussion" competition and Rockville Brass Band took home its second consecutive Gold Medal (second division) of the "Full Brass Band" competition of the 2018 North American Brass Band Association (NABBA) Championships.
DeGroote performed Casey Cangelosi's "White Knuckle Stroll," and the band performed Philip Sparke's "Tallis Variations" and Stephen Bulla's "Frontier Vision." Nigel Horne, the band's music director, stated that "[he] is over-joyed with this year's results. Our hard work paid off, and this win sends the message that RBB's quality as an ensemble is here to stay."
A number of other Rockville musicians had successful showings in the individual and small ensemble competition. This includes:
• Rockville Cornet Sextet – 2nd place, Brass Ensemble
• Rockville Euphonium Quartet – 8th place, Brass Ensemble
• Gerald Hendrickson (trombone) – 1st place, Senior Low Brass Technical
• Bill Ichord (flugelhorn) – 2nd place, Senior High Brass Slow Melody
• Zach Allyn (cornet) – 3rd place, High Brass Slow Melody
• Nathan Caudill (Eb alto horn) – 5th place, High Brass Technical
Both Caleb DeGroote and RBB are sponsored artists of Soultone Cymbals. Last year, RBB won its first gold medal, and DeGroote took 3rd place in the solo competition.
RBB was founded in 1976 and has enjoyed significant growth under Horne's and DeGroote's leadership in the past few years. Comprised entirely of volunteer musicians, the band regularly performs in the greater Washington D.C. metropolitan region, with a Spring and Winter concert season.
DeGroote is also a sponsored educator with Innovative Percussion, Inc., and both himself and the judges have found the mix of Soultone Cymbals with Innovative Percussion implements to be extraordinarily well-suited for the symphonic literature that RBB performs.
Visit www.rockvillebrassband.org for more information on the ensemble and the band's upcoming concerts.