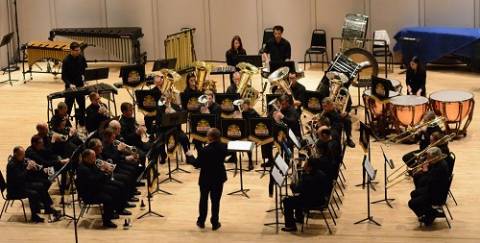 The Rockville Brass Band, conducted by Nigel Horne, took first prize in their division this past weekend at the North American Brass Band Association (NABBA) championships in Fort Wayne, Indiana.
"This is the culmination of months of hard work by the band, and to win first prize at the most prestigious competition of the genre in North America is something of which I am truly proud," said Mr. Horne.
In addition, Caleb DeGroote, the band's President and principal percussionist, captured 3rd place in the Solo Percussion section of the competition.
Founded in 1976 and rooted in Montgomery County, the Rockville Brass Band is comprised of volunteer musicians from around the Washington DC metropolitan area. The band's annual concert series includes both holiday and spring season performances. Playing exclusively with Soultone Cymbals, Rockville received a number of compliments from clinicians and judges over the course of their season on the quality of sound from the percussion section.
Visit www.rockvillebrassband.org to learn more about the Rockville Brass Band or check them out on Facebook. Upcoming June 2017 concerts will be held in Arlington, VA, Gettysburg, PA, and at the F. Scott Fitzgerald Theatre in Rockville, MD.